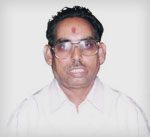 SMITH THERM identified by SMITH FAMILY and his work related to ELECTRO THERMAL APPLICATION founded in 1978 BY late J.L VISHWAKARMA.
Late J.L VISHWAKARMA
Founder
Smith Therm Products are recognized by the quality and with the premium services we render, not due to the tag which is associated with our products and this beneficiary leaves a benchmark before all our competitors.
1981: We expanded and started processing and fabrication of natural mica based various precise range such as mica strip, disc, wafers , condenser mica , silvered mica and many more.
1985: New unit for electric heating elements in addition of metal sheathed tubular heater started to cater biggest appliance OEMs of India.
1990: Started export marketing of electric heating elements and mica products worldwide .
1993: Addition of various automatic and semi automatic computerize machine to electric heating elements unit.
1998: Started manufacturing of electric resistance wire to control and customize own requirement for electric heating elements unit.
2004: Resistance wire manufacturing unit expanded to cater the overseas market in brand name of SMITH ALLOY.
2005: Started manufacturing industrial composite laminates based on glass fiber and Mica with different resin components for wide range of application in steel, power, railway & defense etc.
2009: Company name changed from Dimpy power to Smith Therm Pvt Ltd and incorporated.
2010: New addition of circuit foils heating in electric heating elements unit to fulfill the complete gap of heating elements requirement worldwide.
2012:- 1. New company addition in JLS group in Hong Kong as Smith Therm (HK) ltd established with factory in Shenzhen (China) to cater HVAC , Appliances and other commercial segment.
2. Another new company Smith Therm Srl established in Italy to serve the European market for prompt and quality feedback.
3.Representative office started in Doha Qatar to service in Middle East country.